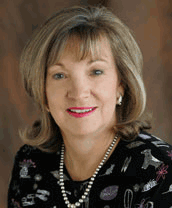 My Letter to Santa
Dear Santa.
It's me, Elly, and I've been really good this year. I've tried to write compelling columns, to help my clients grow and prosper and to keep learning about the art and science of retail. I've created some great seminar programs, expanded my website and tried to help independent retailers see the possibilities available to them. I've challenged them to stretch beyond their current horizons, and to become destination shopping resorts.
So, if you could, Santa, what I'd really like is for you to help me with something I've been working on for the past few years.
My mission is to help independents regain some of the market share they've lost to regional chains and big box retailers over the past 20 to 30 years.
Don't get me wrong, Santa, I don't expect you to grow the locally-owned merchants' share of the pie alone. You'll need them to pitch in and help.
So, if you could just give them some courage, a broader vision, and a real commitment to their businesses, they could be good partners in the effort.
While you're at it, Santa, could you help them define their own missions so that they know why they're working so hard?
Maybe you could help them create some measurable goals for the coming year and show them how to develop an action plan to reach those targets.
It would be great if you could help dealers discover the level of customer service they need to offer to move the needle. If they began to understand what services consumers will pay for, they could start charging for all the extras they offer their customers every day. They could start charging a fair rate for all the extras like classes and clinics, delivery and installation, for appliance haul-away and for the cords, connectors and accessories that help the products they sell work like they're supposed to. It's great customer service and the extra profits would sure help their bottom lines.
Retailers could operate more efficiently if you could help them gain financial control. It's hard, Santa, but maybe you could help them understand their balance sheets so that they'd stock the right amount of current inventory and avoid cash flow crunches.
And if you could help dealers understand the importance of their role as HR directors, they'd be able to hire the best sales associates, installers, delivery crews and support people out there. Could you teach them the importance of consistent training, motivating and evaluating their team members? They'd start to look at their staff members as assets worth investing in rather than just an expense line item.
If we're really going to whip them into shape, Santa, we might as well get them to develop good marketing plans so that they would send a consistent message out to their prospects. They need to plan solid promotions that further their images as specialists.
Maybe if you could help me spread the message, Santa, we could get dealers to invest in their facilities so that they show their customers how the products they sell will look in their homes. You could help them design lifestyle vignettes and even whisper something about the value of housekeeping to the environment they're trying to create.
I know I'm asking a lot, Santa, but if independents really believed in themselves and in the value they create for their customers, their team members and their communities, they'd soon be the leaders and not the followers.
Now that I believe in Santa, I really do think that independents can regain some of their lost share of the customer's wallet.
And while you're at it, Santa, do you think I could also get a cuddly new robe and some fuzzy slippers?
Elly
In all seriousness, whether you celebrate Christmas, Chanukah, Kwanza or simply the season, I wish you health and happiness, long life and prosperity. May the season remind you to hope and dream and may you surround yourself with friends and loved ones.
Thank you for your comments and your feedback throughout the year. You keep me on my toes and I value our relationship.
I hope the holiday selling season beats all records and that you profitably and successfully round out 2007.