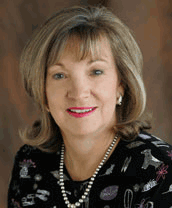 Countdown to Black Friday
Well, it's finally here. Just like Santa struck the bell to open the stock market this morning, the long-anticipated holiday shopping season will be off and running this weekend.
Weeks ago, news of low-priced door buster sale items began to leak out. You can see what some of your competitors have planned by visiting these sites.
www.blackfridayads.com
www.blackfriday.info
www.bfads.net
www.blackfriday.com
In anticipation of long lines and crowded stores, companies like Best Buy have even staged rehearsals for the Black Friday rush. According to a study conducted by BIGresearch for the National Retail Federation, 132.9 million people plan to be out shopping this weekend.
Don't panic! Remember, history has shown us that these traffic building products are only available in limited quantities to those few willing to brave 20 degree temperatures to go out shopping at 3 a. m. As I write this, some items—like Circuit City's 10.1 mp digital camera with printer for $159—are already sold out.
The best news this year is that Thanksgiving is early. There's almost one more week to the shopping season than in most years. After the initial frenzy this weekend, shoppers will realize there's no reason for all the hubbub. And they'll be waiting to see what retailers do throughout December.
Now it's your turn. Use your e-mail list to contact your best customers. Remind them that your door busters are still in stock and that you guarantee your low prices all the time. Tell them about your holiday hours and that you'll have cider and donuts to help take off the chill. Send weekly updates telling them about new product arrivals and hot-off-the-press specials.
Recheck your advertising and make sure your ads are placed correctly, that the product descriptions, prices and pictures are right and that you have inventory to match.
Take a page from the Disney play book. Managers at all Disney theme parks must be in the parks during their peak season from April through September. No meetings longer than 30-minutes are allowed to ensure that everyone is out with their guests.
Stay on your floor. Talk to your customers. Work along side your associates. Help out with gift wrapping or processing credit applications.
Keep your displays fresh and filled. Move things around so that the store looks different each time customers come to shop. Put small impulse items that might be good stocking stuffers near the cash wrap.
Most of all make the season joyful and fun for all those around you. The holiday shopping season seems to come later each year. We wait for it all year and then complain that we're working so hard.
Enjoy the frenzy in your store. Add to the laughter. Make it fun. Don't forget the spirit.
Best wishes for a great Thanksgiving and a terrific Black Friday weekend.